Flyway's 2013 Season Kicks Off with Advance Preview Screening of "The Price of Sand"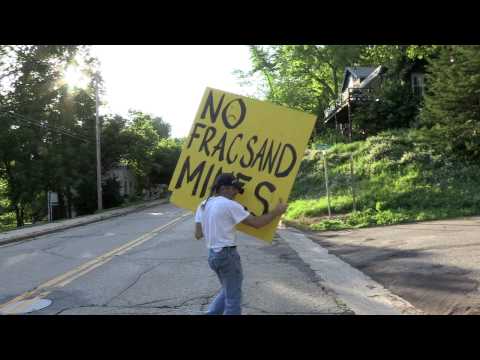 When filmmaker Jim Tittle learned that his hometown of Red Wing, Minnesota was a target for strip mining by a Connecticut hedge fund company, he responded in the way he knew best: he started filming. The resulting documentary, The Price of Sand, will be screened in Red Wing on Friday, March 22, at 7:00 p.m. at the historic Sheldon Theatre.
Tickets are $5 in advance and $7 at the door. Advance purchase is recommended.
Tittle will be present for a discussion after the film.
Tittle's documentary focuses on ordinary citizens affected by frac sand mining in Wisconsin, Minnesota, and Iowa. While the rest of the country touts the idea of energy independence, people in the Midwest are losing their homes, their livelihoods, and their health to the frac sand "gold rush." He interviewed people whose lives have been dramatically affected by sand mining, for better and for worse.
"The goal of making this documentary was to find the real price of frac sand–not just in dollars, but in lives, friendships, families and the future of our region," says Tittle.
The 2013 Flyway Film Festival is presenting the film in conjunction with Red Wing-based citizens' group Save the Bluffs. The Flyway will present the film again during its regular festival season October 17 – 20.
About the Author